Topic: Short diagnosis: 87/88 M-B 300TD [resolved]
Red 'battery' light on dash while running; also when key is off if the battery is still connected.
A battery disconnect works around the current problem, but doesn't solve it.
I have not left it for a reasonably short time to see if it turns off, like automatic headlights.
The light is brighter when accelerating (higher revs); think the alternator's working? But:
Over a ~20 min. driving time, the battery's voltage dropped from the time of first idling until I stopped driving it around the parking lot and parked it again.
Runs and drives; dead battery next time if left connected for a month.
Runs rough at low revs, runs smooth at higher revs.
Apparently sat for several years; rodent nest (which has been removed) near the battery tray and center rear of the engine compartment. No visible chewed wires, and no visible burned rodents.
3 rows of fuses in the fuse box.  Pulled each fuse sequentially with engine off; 'battery' light stayed on for each fuse, with no perceived change in intensity - though it was very sunny out, and the light was hard to see. I returned each row's fuses before I started on the next row.
Disconnected ground wire with engine off - light goes out - this is to the right shock tower.  There's another pair of wires (from I don't know what) grounded there as well (see pic); no change when disconnected.
Multi-meter: voltage tested the Alternator (remanufactured at some point fairly recently). 3 contacts on the connector; when grounded to the alternator's case, two register a steady 12.24 VDC, the third registers 16.20. Is the Alternator bad?
Thinking of disconnecting the ground wire with the car running, or the positive.
Is the 'battery' light a _general_ electrical/charging system trouble light?
Any suggestions where to look next - like another main ground connection at the engine?
Engine bay: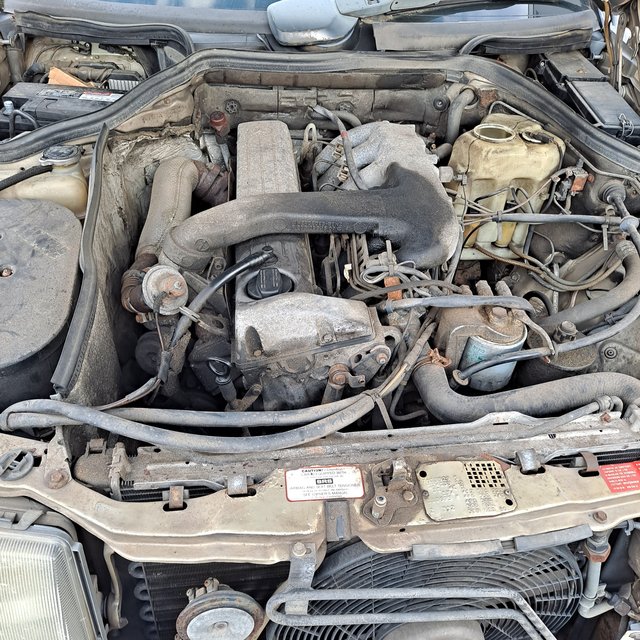 Battery, ground: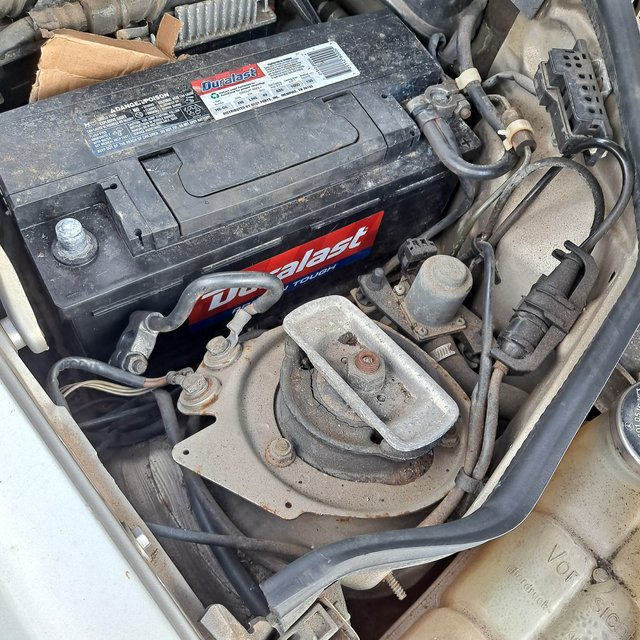 Fuses: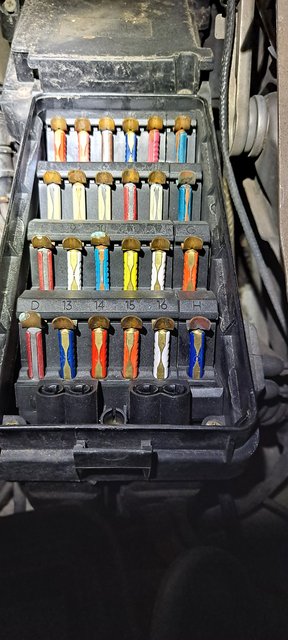 Alternator plug: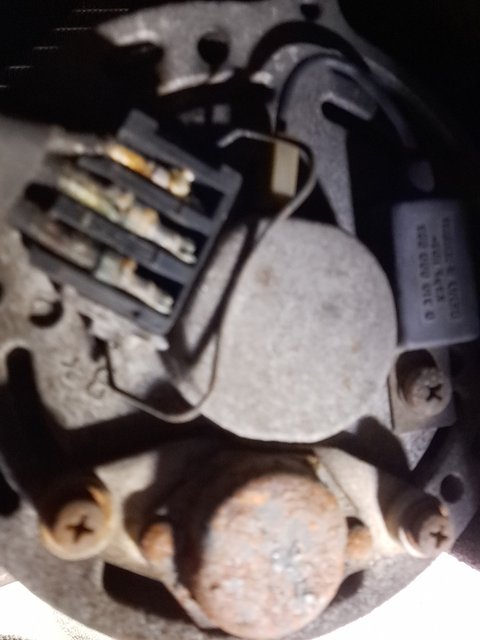 And yes, I know: "You said it runs - pull the crappy 33 year old interior and you'll find the short; then cage it and race it'.
First things first...