Topic: Classy and Class C: Race a Sterling (SF Bay Area, $2K)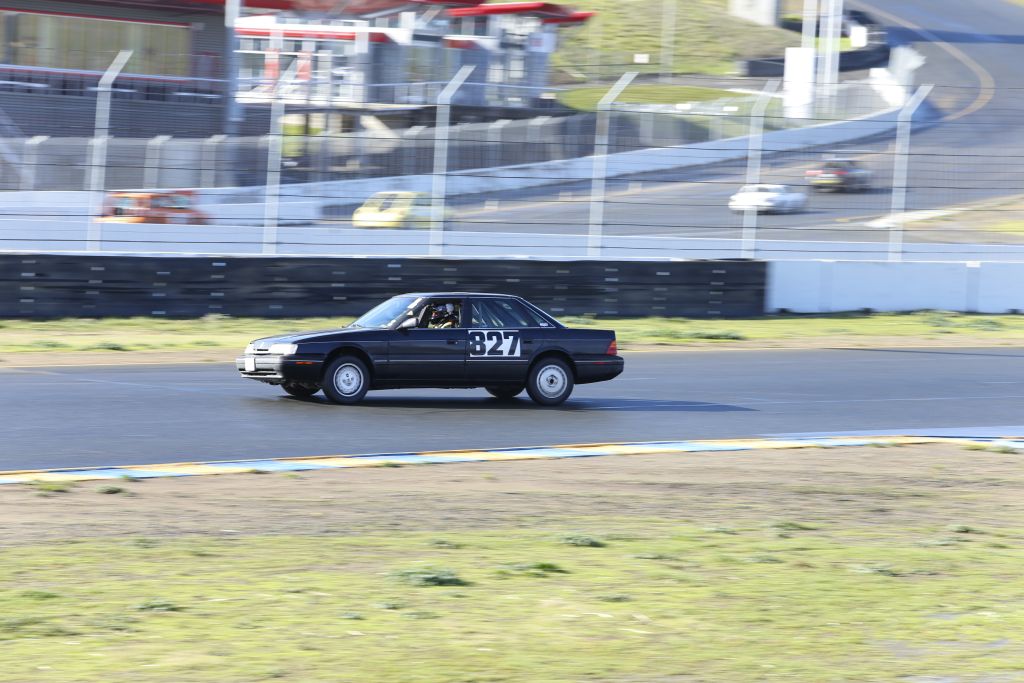 NOW WITH ADDED LOWER PRICING!
This Sterling has a secret: it is actually a hell of a lot of FUN to drive, and even put down a 2:16 at Sonoma in December. On street tires. With an automatic. And a stock suspension with approximately 297K miles on it.
Just imagine what might happen with refreshed shocks (see below), a serious set of sticky rubber, and a 5-speed conversion (did I hear a distant voice cry "dominate"?)
If you're like me, the last thing you want to race is a Miata or an E30, while the first thing you want to race is a Panhard Dyna Z. (Then again, you're also smart enough to know that one of those wouldn't last a lap). The Sterling turns out to be a shockingly reliable race car that handles great, accelerates respectably and brakes well. Over its two race history, it has run each race in its entirety, only needing stops for tires and brake pads.
Of course, we did our homework and prepped it accordingly to ensure trouble-free running. Here's what was replaced before it hit the track:
- Timing belt, tensioner and water pump
- Upper and lower radiator hoses
- Inner and outer tie rods
- Lower ball joints
- Left front axle
- Power steering high pressure hose
- Alternator
- Front wheel bearings
- All four brake calipers replaced with remanufactured units
- Fancy yellow Goodridge braided stainless steel brake hoses
- Cap, rotor, wires and plugs
- Air filter
- Temperature sensor
- Brand new Optima red-top battery
- Fluid changes all around (Motul RBF600 in the brakes, Honda ATF with Silver LubeGard in the transmission, Napa 15/50 synthetic in the crankcase)
Getting parts isn't the nightmare you might think it is; lots of stuff is available at RockAuto and Acura dealers, and Sterling-specific parts can be procured from https://www.sterlingfixer.com/ and https://rimmerbros.com/SubCategory--Rov … ly--m-1608
Comes with a spare parts package that includes a NOS cylinder head (with camshafts, valves, etc), wheel bearing set, spare front stainless brake hoses, front suspension uprights/spindles, fuel pump, NOS Rover rear shocks (x3), rear brake pads and rotors, a spare set of 4 Nissan 240SX wheels and various other bits.
Roll cage was built under the guidance of John Pagel at one of his great cage building classes (highly recommended). Kirkey race seat mounted to the factory power seat base (who else do you know with an 8-way adjustable power race seat with memory?). I/O part seat backstay. Harnesses good for another few years. Magnetic "827" car numbers. Will need fire suppression for 2019 season, but comes with a mounted extinguisher.
I'll even do front brake pads/rotors before the car moves on. Should the car stay with a Bay Area team, I'll also be available at races to help out with any issues that may crop up. I've learned way too much about Sterlings over the past couple years, and must now be a world expert for the 12 that probably still exist in the US.
Asking $220 for the Sterling (what we paid for it), and $1780 for the cage, seat and spare parts. Just PNO'd it for 2019. Selling so we can refocus on refining our other Lemons racer, the Rolex. Car is in Dublin, CA.

A romantic dinner under the Sterling in beautiful Oakley, CA. My girlfriend was not amused.

Before we transformed it into a Lemons racer, it was just your average 295K mile Sterling 827SL
More fun with the Sterling: https://www.instagram.com/p/BPlGoWnB5cB/
Team Co-Captain - Bodge Engineering - The Rolex (1981 Rover 3500 SD1 with Lexus 1UZ-FE V8) and the Sterling (1991 Sterling 827SL - Organizer's Choice and IOE winner!)