Topic: Bimarco Grip FIA Halo Seat Review (affordable fiberglass Halo seat)
All:
My Bimarco Grip FIA rated seat finally came in. It was the most affordable non Kirkey halo seat I could find.
http://www.ebay.com/itm/181832685842
It's slightly wider than the Corbeau Forza that I'm replacing, has a full fiberglass shell, and most importantly for us includes the halo bars to protect us in lateral impacts. I've seen a few reviews of this seat (mfg in Poland) -- seems to be popular with rally types in the EU -- but nothing stateside so I wanted to write something up. Given that i don't have any direct experience or know anyone with direct experience with the brand, I'm placing a lot of my faith in the FIA rating. I did see a comment though from someone selling a seat b/c it didn't fit in the Miata.
I ordered it from the mfg via eBay on 6/29 and it was finally delivered on 8/1 (shipping from Germany via DHL->USPS).
Shipping took right about a month and the only complication was that USPS was too lazy to attempt a redelivery to my office without prodding them (they are supposed to reattempt delivery of all business pkgs if the business is closed when they make their first attempt). The Bimarco came wrapped in bubble wrap and in a big cardboard box with some extra padding. Not a fantastic packing job (it would have been nice if they filled the whole thing with peanutes so the seat wouldn't shift inside the box but marginally adequate for the job.
YMMV but here's the kind of deal I got:
$449+$99 shipping = $548 shipped
- $35.92 (8% eBay Bucks cashback when purchased during promo period. Don't forget to register)
- $60 (Bought $400 worth of eBay GCs may bought from SamsungPay at 10-15% off during promo periods. I buy enough off eBay to bank te. Max 8 GCs per transaction).
+ $35 (cost of best offer made on side mount brackets to mount to our existing sliders
http://www.ebay.com/itm/400976754093)
= $487.08 - whatever I sell the original Corbeau Forza seat for locally.
IMO, not a bad upgrade to protect our necks.
Other people might suggest that I could have sold my Hans Sport and bought a Necksgen Rev for lateral support but this makes me feel safer as I am still skeeved out by the difference in forward motion between the two CAPE tests (I found them in 2014 but it looks like Necksgen pulled theirs from youtube. hrm.). The other cheap option for a halo seat would have been swapping the Corbeau out for a kirkey. Although I'm getting old, my ass still hasn't grown enough to offer sufficient padding to make that option appealing
Installation was fairly straightforward: I found that the outside width of the Bimarco seat was slightly wider than the Corbeau Forza seat so I needed to create two adapter plates to attach my Corbeau sliders to the Bimarco's new brackets.
Padding wise, I think the Forza might actually have more cushion under the butt but this is likely because it's built more like a traditional car seat (tube frame with padding/spring suspension?) vs a fiberglass shell w/ just padding. The front part of the seat that fits under your upper thighs is more comfy with the Bimarco though since those are essentially two big cushions.
I did find that the halo extensions do make it slightly harder to get the seat into the car and to enter/exit the vehicle w/ a helmet (neither issue was surprising). It's a good thing that my wheel is already detachable.
All in all, I'm pretty happy with the initial quality of the product but will report more after I've had a chance to take it on the track.
Initial unpacking at my office. You can fit it in a Prius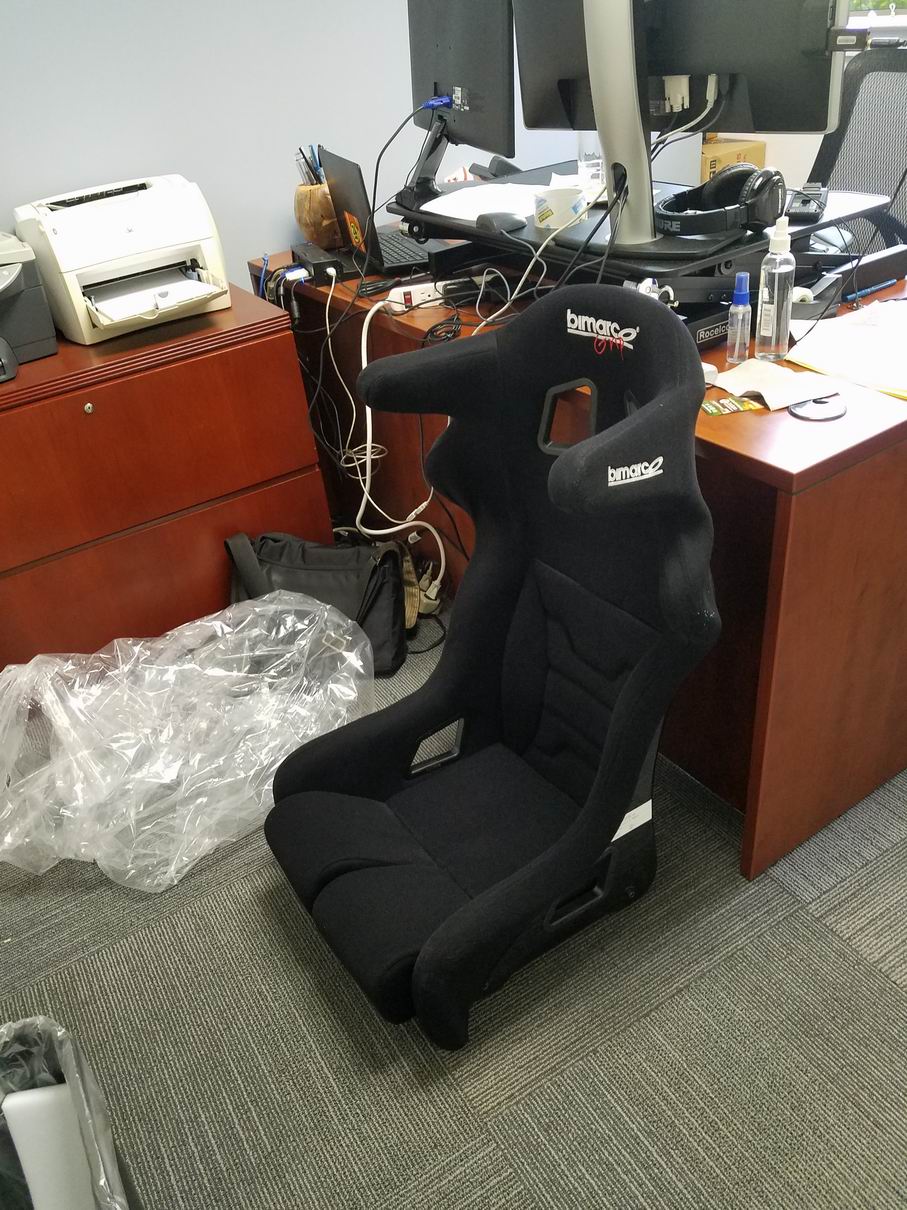 Side by side with my better Corbeau Forza (which will be the passenger seat w/ the other one being sold off)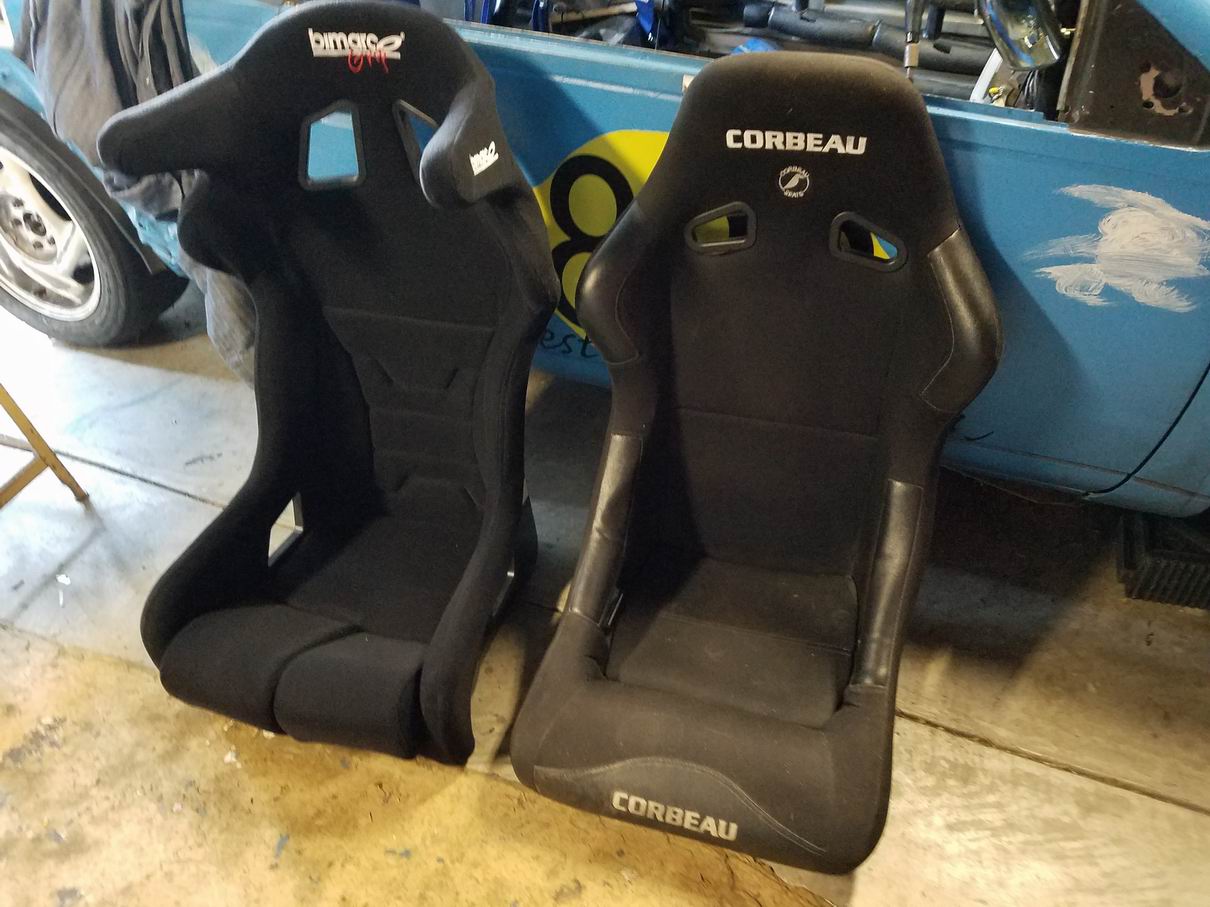 DIY adapter to my existing Corbeau sliders/bracket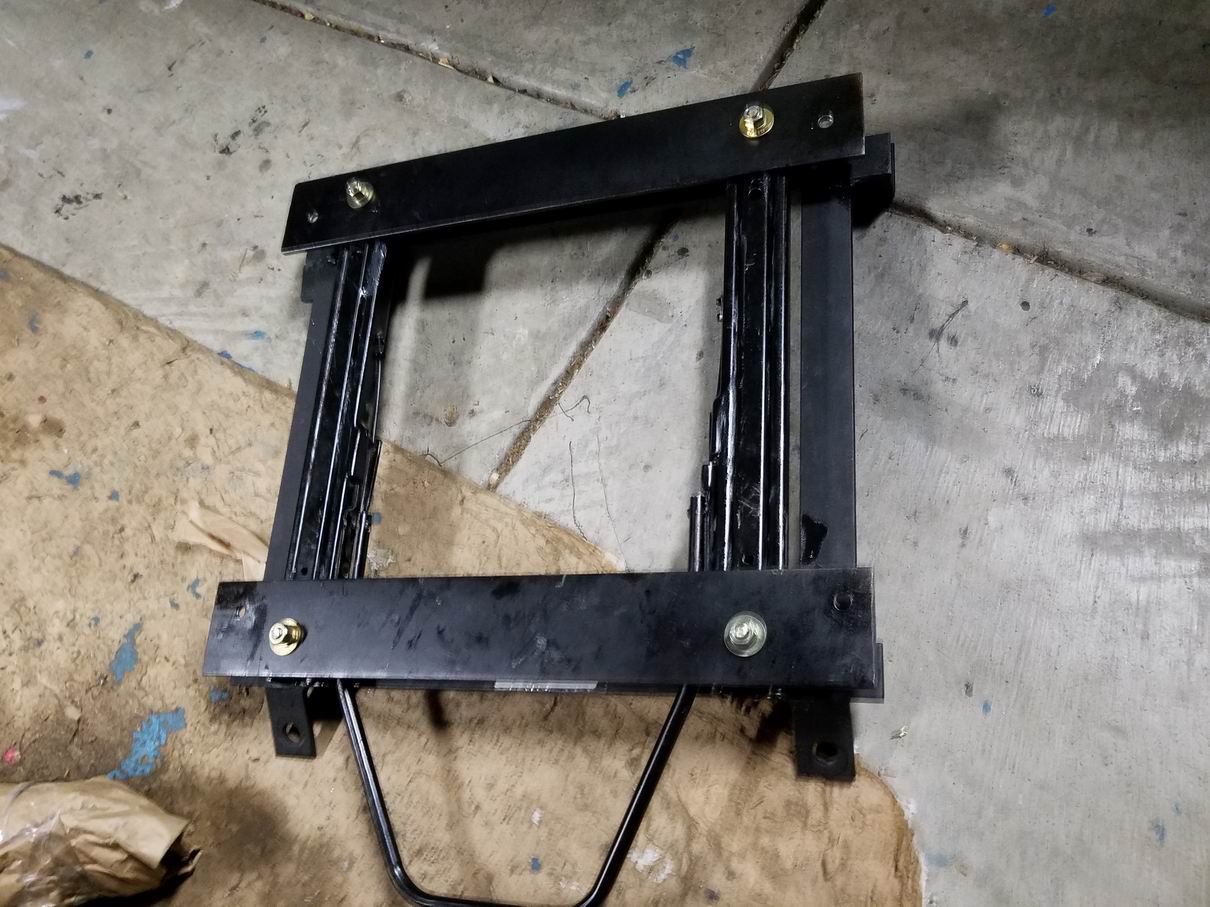 Fitment in Tbird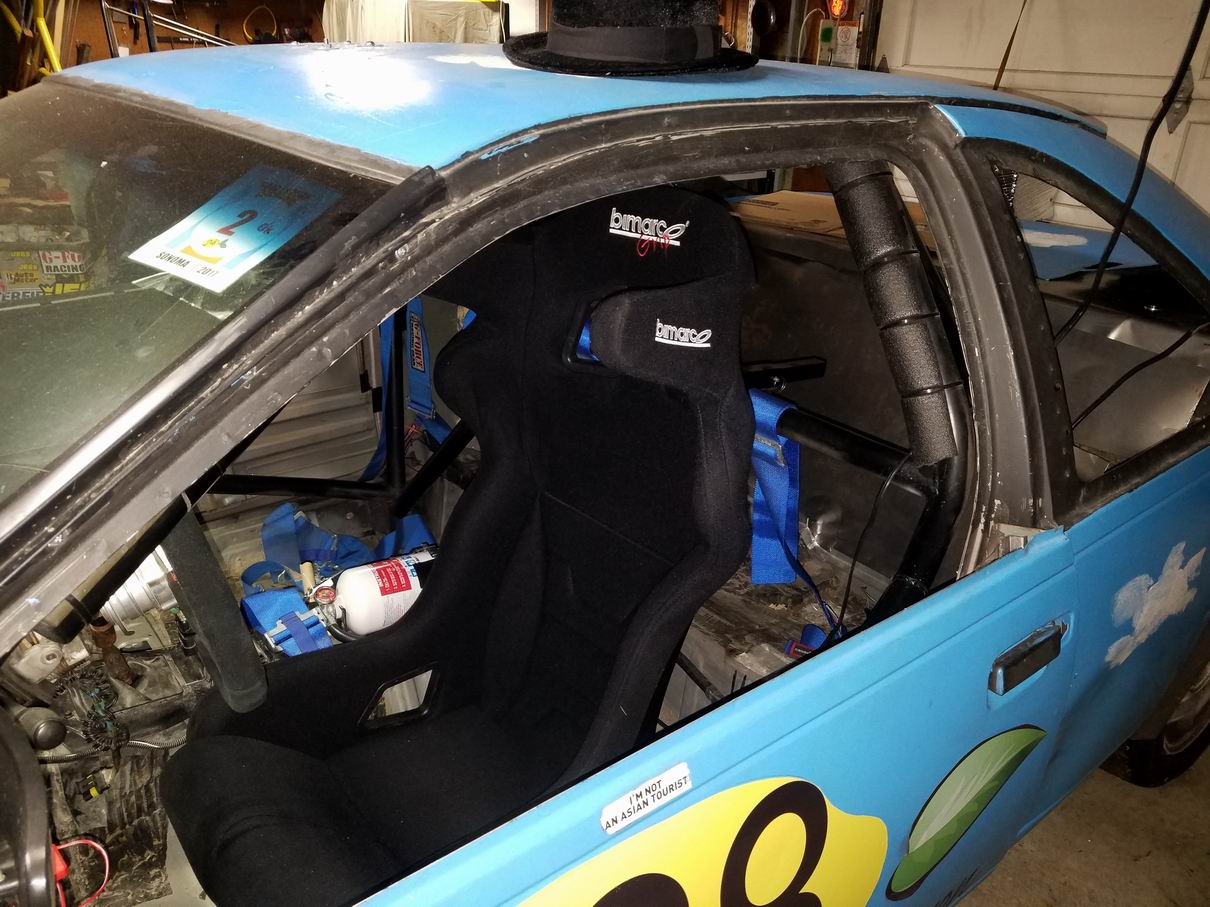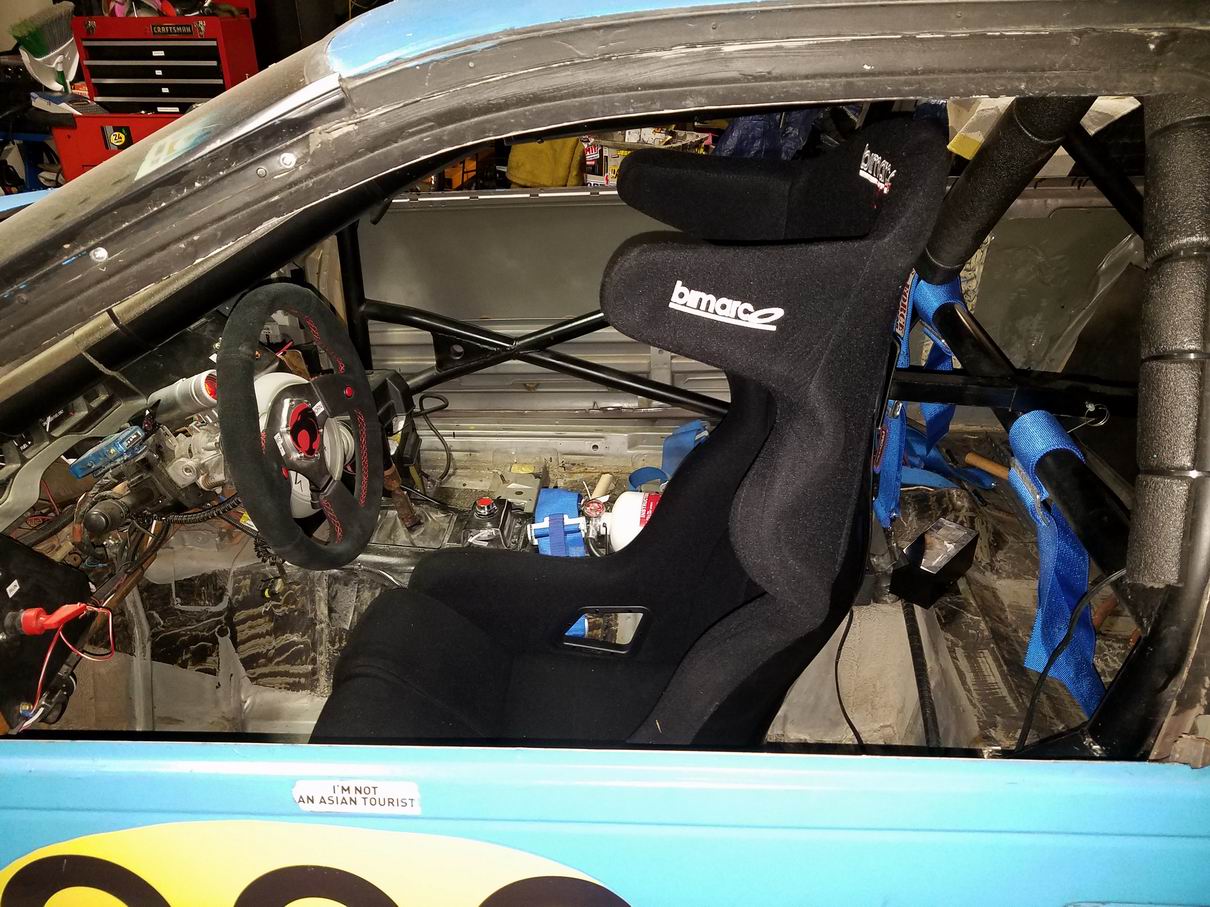 Myopic Motorsport's #888 Bosozoku Texino Thunderbird (1995 tbird w/ 93 V8 swap + shopping cart rear wing)