Topic: What a $400 Miata looks like-
I've owned Miatas over the years and they hold a special place in my heart. If I was hard pressed to answer the question of what the best car in the world is, Miata (and of course, Jeep Cherokee) would be right at the top of the list. I've been without one for the last couple years, using a '94 Suzuki Swift GT (1.3 DOHC) as my DD. Then yesterday, I get a call from a friend of mine who says he found a Miata for me, for $400. Sold! Anyway, here's what a Sub-$500 Miata looks like.
Vital stats: 1996 Miata, 1.8 5-spd. 138k miles. Montego Blue (ugh)
First the bad: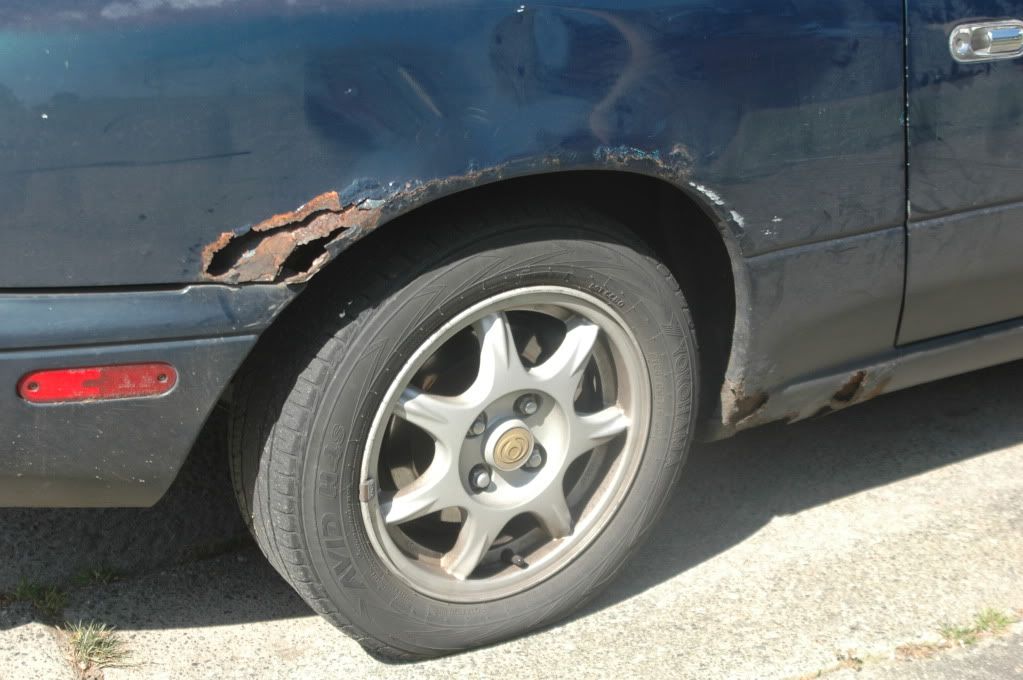 Both rear quarters are pretty well rotted through. You can actually see through to the trunk. It's also shedding bondo chunks like a snake sloughing its skin: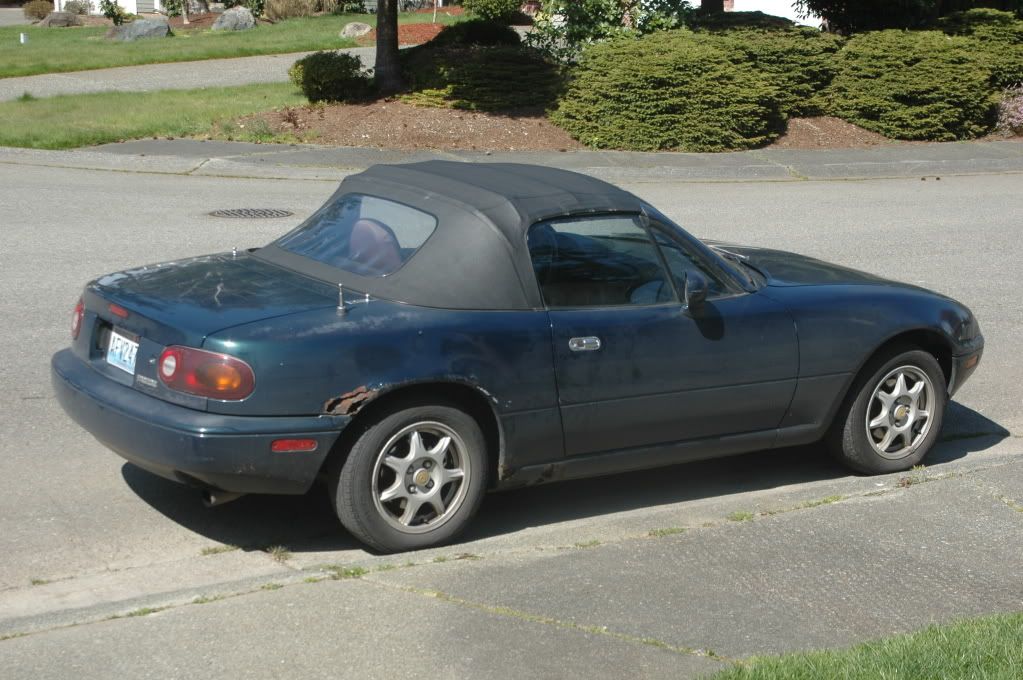 More bad news, the previous owner claims the timing belt has never been changed. Pretty sure the shocks are original, and the rear is really sketchy. Bad vibrations over 60, though I'm hoping that's just the shitty bald tires and not suspension damage. Needs rear brakes. Seats are torn. Steering wheel is peeling. It does have power steering, AND power windows which I'm really bummed about. Also no A/C, which I actually do like having in convertibles for when you're stuck in traffic.
The good: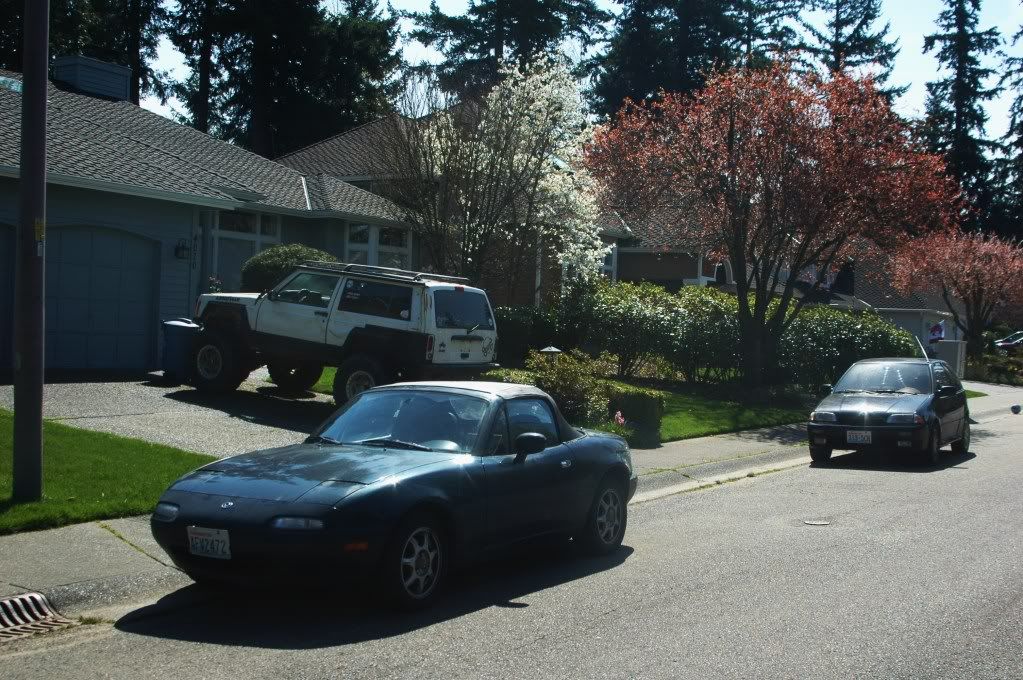 From this angle it doesn't look too bad...kinda. It has a couple year old top that's in decent condition. Has a decent deck w/ USB input. I discovered how much of a difference the 4.10s and LSD make, very different handling than my last beater Miata that was open in the rear. I'm also very impressed how much more pull it has with those gears and with the extra power of the 1.8. It also has the factory brace between the seat belt towers. Oh, and it has cruise control, which I really do like.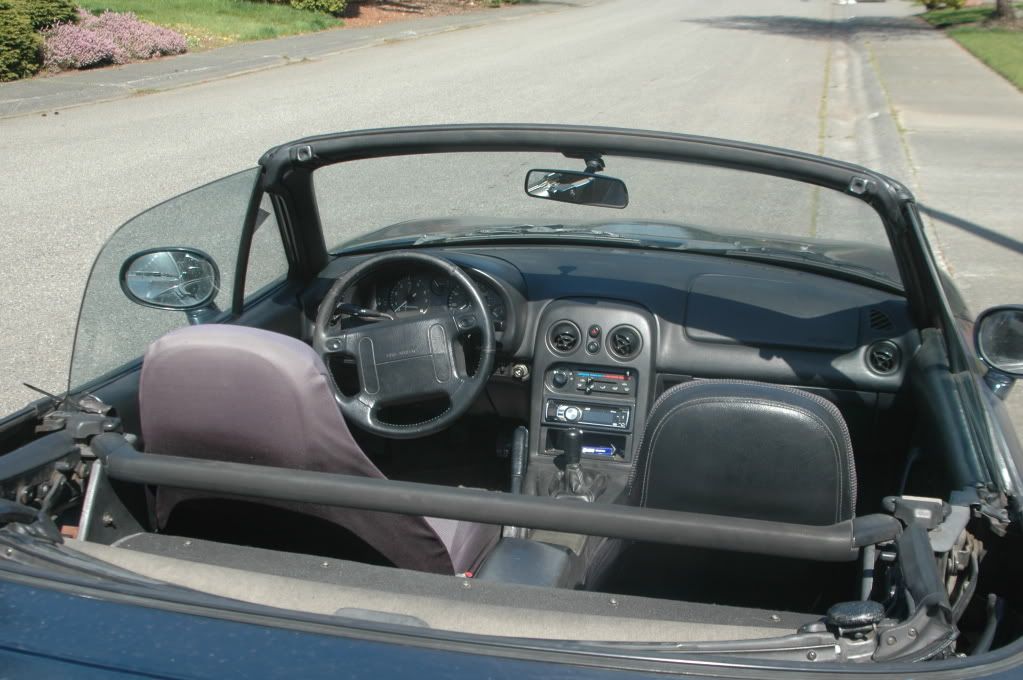 Here's a pile of body work that fell onto the ground when I slammed the trunk lid...and a gift the previous owner left in the center console:
I will probably DD it for a while and figure out what to do with it, but I can't help thinking this would be a fun race car. In the meantime, do any of the Miata teams have any cheap go-fast tips and/or stuff laying around that would work on this car? Thanks!
-Matt